B2C Ordering
B2C Ordering - If you are a private customer: 
We ship products to our customers globally, either from our German Fulfillment Center or from our China Fulfillment Center. Shipment time and cost please check out here.
For customers in Germany:
Please pay attention to the availability status for the items you are about to order. For the items that are not available in Germany, we need to ship out of our China Warehouse and the delivery will take up to 4 weeks (shipment costs remains the same though).
For customers from European countries other than Germany: if the items are available in Germany, additional shipment costs of 7,99 Euro (or 9,99 Euro for large items over 60cm length) would have to apply, if you want the item to be shipped from our German Fulfillment Center. If the items are shipped out of our Chinese Fulfillment Center, only the system shipment flat rate will apply.
For the customers from the rest of world: all items will be shipped out of our Chinese Fulfillment Center and only the system flat rate will apply.
The stretcher bars and stretching service can be ordered separately without additional shipment costs.
You can check the item availability status in 3 ways:
1, By checking the "Features"Tab next to the Product Description Tab for each item.

2, By applying our store filter under Themes Category: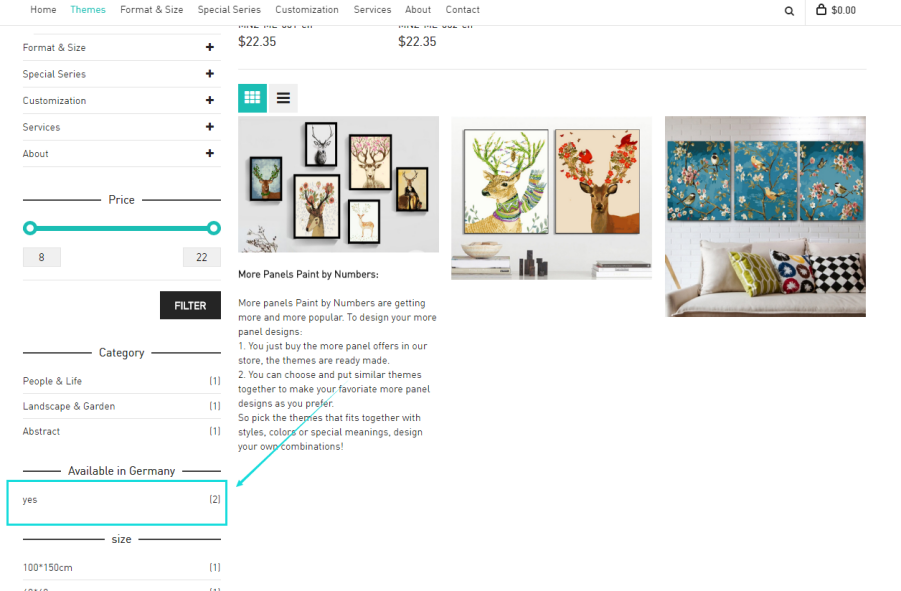 3,By using the Advance Search Function of our store


Check
here
if you want to order customized Paint-by-Numbers kits from your own Photo.
Further interesting services offered from MyPaintLab can be checked out
here
.